Tired of prospective employees exaggerating their prior experience or omitting a reference where they exhibited harmful behaviors? Having difficulty verifying basic employment or salary history? Expending needless staff hours for verifications? Our patent-pending EEVTM technology will change that. R.E.F.S.TM is America's first and only universal electronic employment reference service that reveals job references the applicant discloses and the ones they omit.
Financial service providers can verify both employment and salary with one online search. With the information required to substantiate resume, applicant, and income data available 24/7/365 electronically, the hiring and approval process will become quite a more seamless one.
Protected By: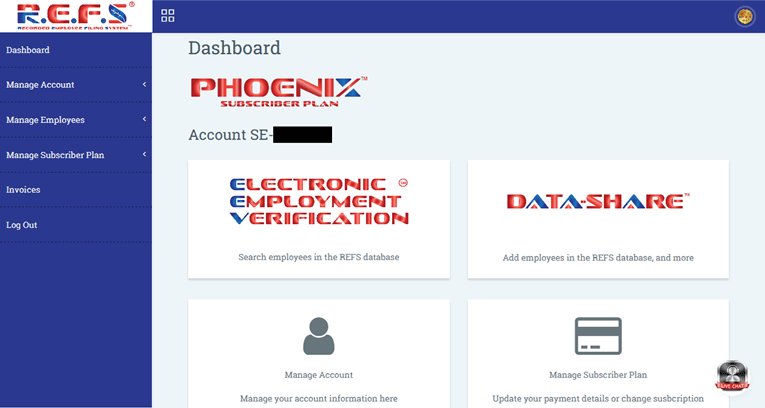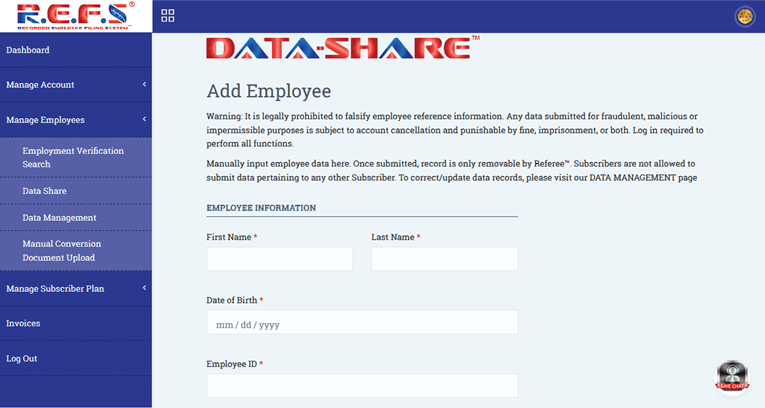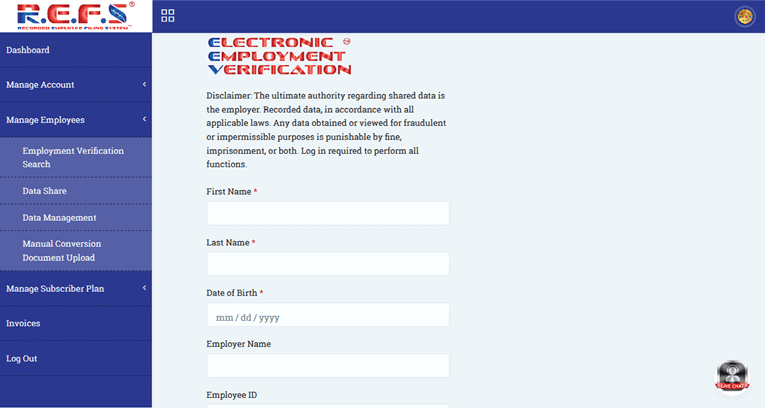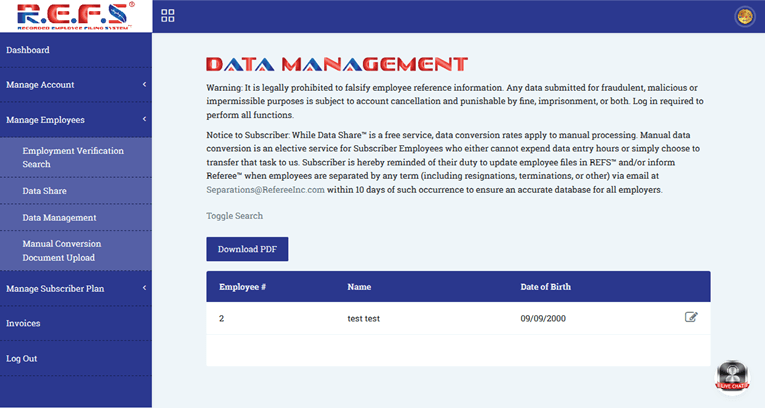 Our patent-pending EEVTM tool is the simple process of electronically cross-referencing an applicant's employment experiences without making any phone calls or sending any emails, also known as Electronic Employment VerificationTM.
This new technology is the gateway to inspiring applicant integrity and ethical application processes. Exaggerated and redacted work histories will soon become obsolete.

R.E.F.S.TM is an encrypted cloud-based software program that gathers employee data for the purpose of Electronic Employment VerificationTM
We electronically store and share select applicant data with verified Subscriber Employers.
Our patent-pending EEVTM and Data ShareTM technology tools are available exclusively via subscription.
We assist human resource representatives and other permissible entities with verifying applicant work histories, whether disclosed or omitted.
We allow Subscriber Employers the ability to electronically cross-reference their applicant's prior employment experiences with our stored data and also obtain salary histories.
Our data may alert Subscriber Employers to potentially harmful behaviors that the applicant may have exhibited in the past.
Our data may serve as an applicants' professional recommendation or job reference.
There are currently no other all-encompassing employment reference verification systems in place.
Data is free to share and inexpensive to access.
Our patent-pending R.E.F.S.TM database is available 24/7/365.
24/7 Online Chat and toll-free Customer Service.
Employee's Identity
EEVTM search will include information to identify the applicant (i.e. name, date of birth, employee ID number )
Dates Of Employment
EEVTM search will list the dates the applicant was employed.
Currently Employed?
EEVTM search clearly reveals whether the applicant is currently employed by the employer, so Subscribers can easily identify the active jobs vs. the inactive jobs
Income Verification
EEVTM search will detail the applicant's beginning and ending salary for each position held
Job Title
EEVTM search lists the title(s) the applicant held during tenure (i.e. supervisor, cashier, greeter, administrative assistant, etc)
Employee Responsibilities
EEVTM search details the duties the applicant performed (i.e. cash handling, secretarial functions, managerial, POS, inventory, etc.)
Attendance
EEVTM search will state plainly if the applicant's attendance was satisfactory or unsatisfactory.
Terms Of Separation
EEVTM search includes the terms by which the applicant separated from the employer (i.e. resignation, temporary assignment, at-will position, etc).
Legal Issues
EEVTM search will include a section revealing whether legal issues arose during the applicant's tenure (i.e. employee theft, sexual harassment, whistleblowing, etc).
Optional Performance Review
EEVTM search includes an optional performance review, which can also serve as the applicant's letter of recommendation or reference.
Waive your first-year Premium service fee through our Seed AgreementTM program

A Seed AgreementTM is Referee's quid pro quo commitment of free service to new Subscribers who agree to water the R.E.F.S.TM database with their employment information. While RefereeTM works to saturate its database, we'll be offering Seed AgreementsTM to a limited amount of trailblazing employers. The program was implemented to encourage U.S. employers to share into a platform that will become the future of American workforce solutions

Notice: Downgrade from PhoenixTM will result in loss of multiple user functionality.

R.E.F.S.TM is the first of its kind, offering an all-encompassing, simplified, and less expensive method that provides more data.
The R.E.F.S.TM platform not only incorporates unlimited searches, but those search results reveal a minimum of 10 categories, including employment details, salary, attendance, and performance reviews. So not only does R.E.F.S.TM offer unlimited searches for one monthly or annual fee, those searches are more invasive without being too invasive.
Our technology will eventually reduce the fraud which generally occurs when an applicant exaggerates or omits their work history when applying for new jobs and/or loans.
The human capacity for misrepresentation is an "innocence" this country can no longer afford. Minor oversights can put any work environment at risk. RefereeTM has the authority and the tools to help lower those risks. Truth is the ultimate sword against untruth. Humanity is evolving. So too should the systems in place to verify our experience.
Why This Technology Will Revolutionize Your Human Resources Experience?
Currently, an employer's only option is to attempt to verify the work experiences that prospective applicants provide to them, though prospective applicants can simply omit a previous job experience from their application to avoid an unfavorable reference. That reference could possibly alert a future employer to habitual harmful behaviors the applicant has exhibited in the past. With growing employer participation, the act of applicant omissions can become obsolete. The more employers participate in sharing their data through Data ShareTM (which is FREE), the less opportunities any applicant can have to redact their work experiences and behaviors, which will reduce employer risks in making uninformed decisions.
Let's face it, as Americans, we require gainful employment to sustain our lifestyles and employers require ethical and knowledgeable staff to conduct the businesses we are all consumers of. RefereeTM plans to slowly eliminate unverifiable employment references by gathering and storing verified data for subscribers to access. Data is free to report and inexpensive to access.
Frequently Asked Questions
Is RefereeTM a credit reporting agency?
No. RefereeTM is a not a credit reporting agency, does not score applicants, and plays no part in the employment decision-making process.
What if the information being shared is inaccurate?
Prospective employees/applicants must first contact the supplier of the data to dispute inaccuracies. You may also request a copy of your Employment Data File by completing our Employment Data File Request Form, which can be downloaded from our Downloadable Forms page.
What if the applicant and prospective employer remain in disagreement regarding the information contained in R.E.F.S.TM?
The applicant may then contact RefereeTM regarding the specific disputed record and the employer will be contacted independently. RefereeTM notifies Subscribers that the data will be suppressed until verified. If the information is verifiable by document, the record will remain. If the record is in any way unverifiable, it will be deleted.
To initiate a dispute, applicants must first retrieve a copy of their file by completing our Employment Data File Request form. They may then write a letter of dispute to the address provided in their consumer file.
What if an applicant has been a victim of identity theft?
For prospective employees who have been victims of identity theft, they will be required to complete and sign an FTC forgery affidavit, have it notarized, and forward to RefereeTM with designated supporting documentation for investigation. This information will be shared with the furnisher. If the applicant maintains that the information is fraudulent, RefereeTM will conduct its own internal investigation and make a final decision regarding removal or correction.
Is there a fee to verify employment through RefereeTM?
There is a negligible cost associated with accessing R.E.F.S.TM. However, RefereeTM does not verify employment. RefereeTM stores data that Subscriber Employers can cross-reference with information provided by job applicants or for any other legally permissible purpose.
Can anyone share employee data with RefereeTM?
No. RefereeTM has strict requirements regarding employers who wish to share employee data. Each prospective Subscriber must be able to authenticate, by the document, their business entity and existence, and if called upon to do so, verify the supplied employee reference. RefereeTM conducts rigorous ethical and professional verifications to maintain its integrity and to protect prospective job applicants against a possible unfavourable reference.
What if my previous employer doesn't share data with RefereeTM? Will I be denied employment?
RefereeTM is not involved with employment decisions and does not make recommendations to prospective employers regarding the veracity of applicant statements and/or application data. RefereeTM makes data contained within its database available. There are many reasons an employer may elect not to share data with RefereeTM, including but not limited to: cost, defunct status, or legal issues. If an employer does not share data with RefereeTM, no record will exist within our database.
Is the R.E.F.S.TM database open to the general public?
No. Any entity with employees or individual conducting business with employees must apply to access our Subscriber database.
How can we contact RefereeTM if we have more questions?
Will you pull my credit report?
No. Hard personal credit pulls are not performed as part of the application/approval process, though a Business Credit Report may be obtained for verification purposes. Our decisions are not credit-based.
What makes you different from other companies who offer similar services?
Referee, Inc.'s patent-pending form of Electronic Employment VerificationTM differs from any competitors in many ways: 1.) Results are not domain based. 2.) The shared platform makes for a more saturated database of employers. 3.) Our verifications may reveal job references the applicant has chosen to omit from their resume. 4.) Our verifications are a one-sweep process where an employer needs only to conduct one search per applicant.
Do you offer international services?
We do not currently offer any services to employers who are based in foreign countries. This is a feature that is currently under development.
Are your decisions credit-based?
No. Credit is not considered nor required. All decisions are based on employer business data being validated.
Do you offer a free demo?
We do not currently offer a demo. However, our DivergenceTM plan is a completely free plan that allows approved Subscriber Employers to share their data for free and navigate the R.E.F.S.TM database.
What is a Seed Agreement TM ?
A Seed AgreementTM is Referee's quid pro quo commitment of free service to new Subscribers who agree to water the R.E.F.S.TM database with their employment information.
How does the seed agreement work?
When approved, the Subscriber Employer will report their employee data (The Seed TM) to the REFS TM database, densely saturating the platform. In return for sharing data, the Subscriber Employer will receive 1 year of free premium service. More information available at www.refereeinc.com/seed-agreements